To provide an open-ended, blended, and holistic approach to early childhood education
The Preschool's philosophy is based on the desire to combine learning with play in a caring, supportive environment using a blended approach of Montessori and traditional methods.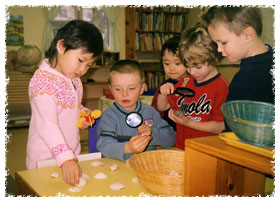 Its goal is to provide for each child an active and continually unfolding process of self-discovery that occurs in the present and helps prepare the child for the future.
Its focus is to develop each child's emotional, social, physical, linguistic, cognitive, intellectual, individual, and perceptual skills.
The philosophy, goals, and focus are reflected daily in the Preschool's learning environment which respects and recognizes the unique personality of each child. In responding to the spirit of the child, his/her development can be nurtured and enhanced through an educational process that provides freedom, choice, and discipline.
The Montessori Philosophy
"Montessori is an attitude, not just a technique and one must have great love for and understanding of each individual child. Montessori is a spiritual attitude towards mankind and mankind begins with childhood." — Dr. Maria Montessori
Dr. Montessori discovered that children from 3 to 5 years of age, given a harmonious environment, can experience self-directed learning.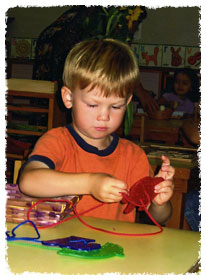 The approach stresses teaching the whole child and emphasizes how the different intelligences are intertwined in the real world and in the classroom. The goal is to free the child's potential for constructive self-development by building self-confidence and self-motivation.
It is an indirect method of teaching because the staff members will try not to impose knowledge on the child but gently present concepts when the child is interested or ready. The idea is to control the environment, not the child.
The environment is controlled using two main methods. Firstly, it is important that the child feels secure and at ease in an environment that is attractive, child-sized, bright, warm, and inviting. A great deal of time is spent by staff members preparing the environment and keeping it orderly, clean, and in good repair.
Secondly, the staff members pay particular attention to the condition and variety of the materials. Materials are exchanged regularly during the year and when activities are brought in, the children are expected to handle the materials respectfully. They may choose the equipment with which they will work once it has been presented to them.
+ Questions Most Frequently Asked About Montessori

Back to Top