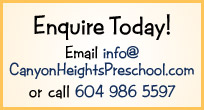 Preschool and Montessori Program
Your child's preschool experiences will be an active and continually unfolding process of self-discovery that occurs in the present and helps prepare your child for the future.
The daily child-centred program integrates the five critical areas of early childhood education: emotional, social, physical, intellectual, and language development.
The program is enhanced with special opportunities for your child: music, French, nature and science activities, art projects, drama, language arts, movement, and math... (see below for curriculum descriptions). Special occasions are celebrated, concerts are held, and learning opportunities abound. Your child's personal options are endless!
A typical day
When the children arrive at the Preschool, they are greeted at the door by the staff and friends who are busy putting away jackets and getting ready for the day.
There is excitement as each child chooses an activity. Will it be at the round table to work on an art project, or at the easel? Maybe some work with cognitive materials or reading a book is a good place to start? The options are endless.
One of the best parts of the day is circle time, when the children and teachers make presentations about a special theme, sing songs, perform finger plays, learn French, and tell stories.

Snack is a favorite time for all the children. The child who brings the snack is the server and leader for the day.
Children then go outside to play at the playground, located just by the door. In such a beautiful location, there is always something to explore.
And of course all good things come to an end. The children help clean up and care for the classroom, and then reassemble for circle time to hear a story before leaving for the day.
The program is changed from time to time depending on the weather, special events and music days.
We offer half-day mornings (8:30-11:30am) or half-day afternoons (12:30 to 3:30pm) for children ages 2.5 to 5 years old. Families can select as many half-days as they feel will be suitable for their child and can extend each session by a half-hour if needed. As of September 2018, we will offer full-day preschool from 8:30 to 4:30pm as well as half-day options.
Tutoring
Individual tutoring for special needs children.
English-as-a-second language tutoring using the Montessori method for children up to age 8 who require additional support in learning to read and write in English.
Tutoring in Reading, Writing, and Arithmetic for children up to age 10 who need assistance or for children who wish to move forward in grades one and two.
Tutoring is scheduled on an individual basis.
Early Learning Foundations Preschool
Canyon Heights Preschool is proud to be a participating ELF Preschool. In a unique affiliation, the North Vancouver School District (NVSD) recognizes the Preschool as providing programming that is designed to give children positive and constructive learning experiences that nurture their individuality while preparing them for school learning experiences.
The Preschool is acknowledged by the NVSD as providing quality, universally inclusive, accessible, and developmentally appropriate early childhood learning, one that is a critical part of the local community. The learning is directed by the ELF Guiding Principles and Practices.
To learn more about the ELF program, visit www.nvsd44.bc.ca/programs/ELF.aspx.
Program Curriculum Areas
Practical Life Exercises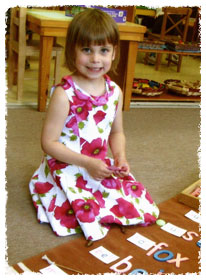 Practical life exercises help the child to become independent and to care for his or her own needs. Examples of activities include: polishing, washing, cleaning, pouring, or learning to lace and tie a bow.
Sensorial Materials
Sensorial materials help to develop the child's intelligence which is based on organizing and categorizing sense perception into inner mental order with appropriate language. The materials are designed to isolate, compare, and classify perceptions of sound, smell, color, texture size, and shape.
Languages
Language based activities are used to help the child develop the language skills of listening, speaking, reading, and writing. Examples include language games, songs, finger plays, and stories. The child first learns the sounds and shapes of the alphabet through the use of sandpaper letters. Children in the second and third year are introduced to journals which lead to emergent writing.
French is taught through games, songs, and activities. The children will be introduced to the French terms for numbers, colours, body parts, days of the week, etc. We act out nursery rhythms and enjoy dramatics.
Math
Math materials are used for exploration, classifying, estimating, number recognition, number rhymes, patterning, shape recognition, and measurement.
The Mathematical Apparatus program and the "Math Their Way" program give a child an understanding of the basic mathematical rules.
Science
Science experiments are regularly presented in the circle and are then made available for the children to explore on their own. The Preschool's nature/interest table is constantly renewed, offering knowledge and concepts from our immediate environment. We offer themed programming which includes color and animals, space, the elements (fire, water, earth, air), smells and flowers in the spring, birds, insects, sea-life, and African animals. Children learn through nature about the tree of life.
Cultural
Culture is incorporated into all aspects of our program. We offer programming in geography, art, and music. Our bookshelves are full of stories from around the world. We encourage parents to introduce their cultures in the classroom.
Art
Art activities are endless and open-ended for the children, and include seasonal celebrations and special occasions. Our art area includes painting, stamping, chalking, punching, cutting, pasting, tracing, play dough, punching, clay work, collage.
Music
The music program is offered in two ways: 1) once a week an outside music specialist visits the school, and 2) on a daily basis, the staff members informally play their own music for the children. Emphasis is placed on improving skills such as singing in tune, learning the natural rhythms of words and rhymes, as well as listening and moving to music. Songs, rhymes, games, and dance are the initial devices used to begin a child's musical awareness. These are then combined with the playing of percussion instruments to learn rhythm while at the same time the melodic structure of the song is learned through the use of hand symbols which visually depict each note.
Physical Activity
We have several playgrounds just outside our door and make every attempt to go out daily for at least 20 minutes, weather permitting.
Inside, the children are active during circle games. The children move creatively to different types of music and do movement games for fun.

Back to Top