Our Staff
Caring and highly trained, we are fully licensed Early Childhood Education (ECE) supervisors and qualified primary teachers, as well as Montessori trained.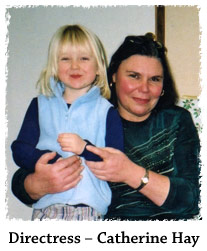 Catherine Hay is a pioneer of ECE in British Columbia. She was formally trained at Barkly House College in South Africa, and qualified as a primary teacher specializing in ECE in 1978. She studied infant development, special needs, and learning disabilities. She completed the AMI Montessori Training in Atlanta, Georgia in 1979. She holds her ECE Supervisor's Certificate from the Province of BC. She is continually updating her skills through professional development courses. Since opening the Preschool in 1984, Catherine has been known by her pupils' parents as an "unrelenting educator".
Hours of Operation
September to June
Monday to Friday
Morning: 8:40 am to 11:30 am
Afternoon: 12:40 pm to 3:30 pm
Registration Information
The Preschool accepts enrollment from children between the ages of 2½ to 5 years of age. Your child can register for the 1, 2, 3, 4, or 5 day program.
Kindergarten children can register to attend in alternative sessions (for example, if a child is in afternoon kindergarten, he/she can attend morning preschool and stay for lunch, and vice versa).
To register, please contact the Preschool to arrange for a tour and to receive the registration package and the Parent Handbook.
The Preschool provides a gradual entry system when the child begins school, giving both the parent and child an opportunity to feel safe and secure in the environment and with the teachers.
Parent and Family Access
The Preschool believes that parents and families are the child's first teachers. The family plays a key role in preparing children for success in school by being involved in their child's education from birth.
The Preschool is accessible to parents and families through several means:
Parent and family orientations
Parent-teacher conferences (formal and informal)
Newsletters and information handouts
Parent Handbook
Invitations to attend special events and to participate in projects
Involvement in snack time and in birthday parties
The Preschool especially appreciates when the parents and families share their own special hobbies, talents, cultural backgrounds, or interests in the classroom.
Parent Handbook
The Preschool's Parent Handbook is provided upon registration. It offers all the information parents need to ensure their child's success at the Preschool.
Fee Structure
Your child can register for the 1, 2, 3, 4, or 5 day program. The fees reflect the Preschool's focus on the environment and on high quality staff and teaching materials. Please contact the Preschool for a fee schedule.

Back to Top