Welcome to Canyon Heights Montessori Preschool!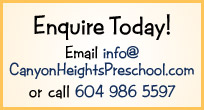 Educating children in North Vancouver since 1984, the Canyon Heights Montessori Preschool provides an excellent preschool experience for 2½ to 5 year olds in a caring and supportive environment.
Preschool Highlights
Children love attending Canyon Heights Montessori Preschool. From the moment they walk in the door to when it is time to go home, they feel welcome and have fun playing while learning.
Parents recommend the Preschool because of our:
Individualized attention for each child
Family focus
Excellent reputation
Professional, caring teaching staff
Flexible programs including preschool, tutoring, summer school, and kindergarten programs
Beautiful surroundings
Easy access
Connections to the community
Fully licensed status
Complete safety and emergency preparations
What parents have to say...
"The school has a well deserved reputation for excellence in early childhood education."
"I recommend the Preschool to you as a fine example of a school that has nurtured generations of children towards successful futures."
"Catherine and her teachers observe and direct the development of all the children in a carefully structured environment, but the atmosphere is so gentle and encouraging that the children grow in confidence and self esteem while they learn."
"I knew this was a special school when I observed all the children working away on their varied projects, engaged in learning while talking and smiling."
"The Preschool was for our family a nurturing and comfortable place to be. These foundational experiences have stood him in great stead throughout his elementary education."
"Not only to receive the finest preschool education, but the Preschool also enabled them to glide into the school system with confidence, excellent social and learning skills, and respect for the environment."
The ELF Program
The North Vancouver School District has chosen the Preschool to participate in the Early Learning Foundations (ELF) Program, a unique opportunity extended to qualifying preschools that provide a high quality developmentally appropriate preschool program in a play-based environment.
Note from the Directress
Please explore our website, which provides an overview of our Preschool's philosophy, programs, general information, and links to the community. Then call us at 604 986 5597 or email us at info@canyonheightspreschool.com to arrange a visit. We will be happy to provide you and your child a tour.
Sincerely,
Catherine Hay

Back to Top